Choosing from 2, 3, 4, 5, 6, and 7 section bi-folding doors, we can easily accommodate any size room or location. This also means that you can fully open up the rear of your property onto your garden or terrace with nothing more than a gentle push. This versatility means your bi-folding doors can be used to divide an existing room; thereby creating two distinct living spaces.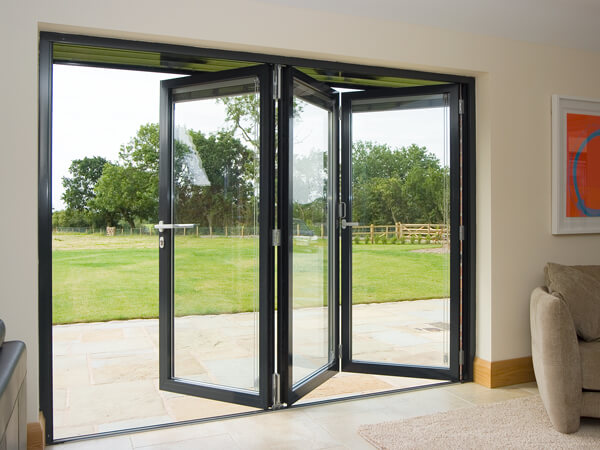 As well as the freedom to choose the material of the frame, the colour and finish, you can also decide which way you want your bi-folding doors to open as well as whether they slide to the left or the right. Such freedom, partnered with the excellent aesthetic and security benefits of these doors, means they are quickly becoming one of the most desirable additions you can make to a home.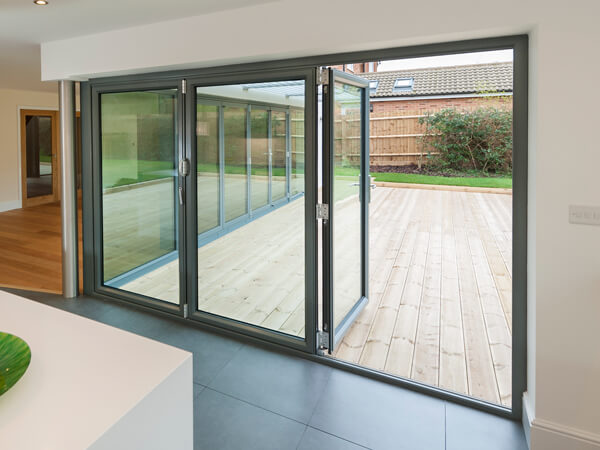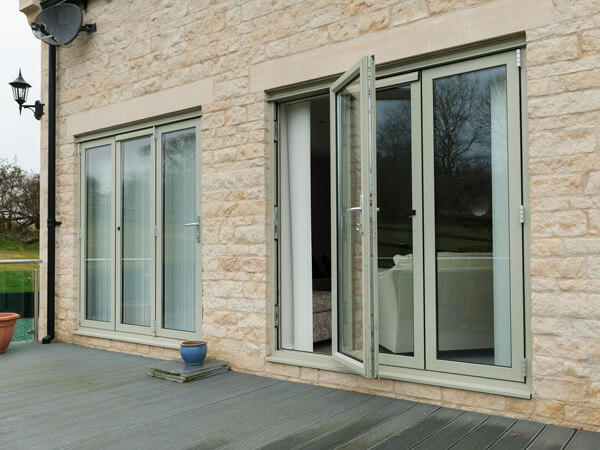 Bi-Fold Doors
To look at them, you would expect to have to exert a lot of energy to get bi-folding doors moving, but the gliding rollers make them easily manoeuvrable.
Click on various hotspots to learn more about the practical and modern features of Joedan's Bi-Fold doors.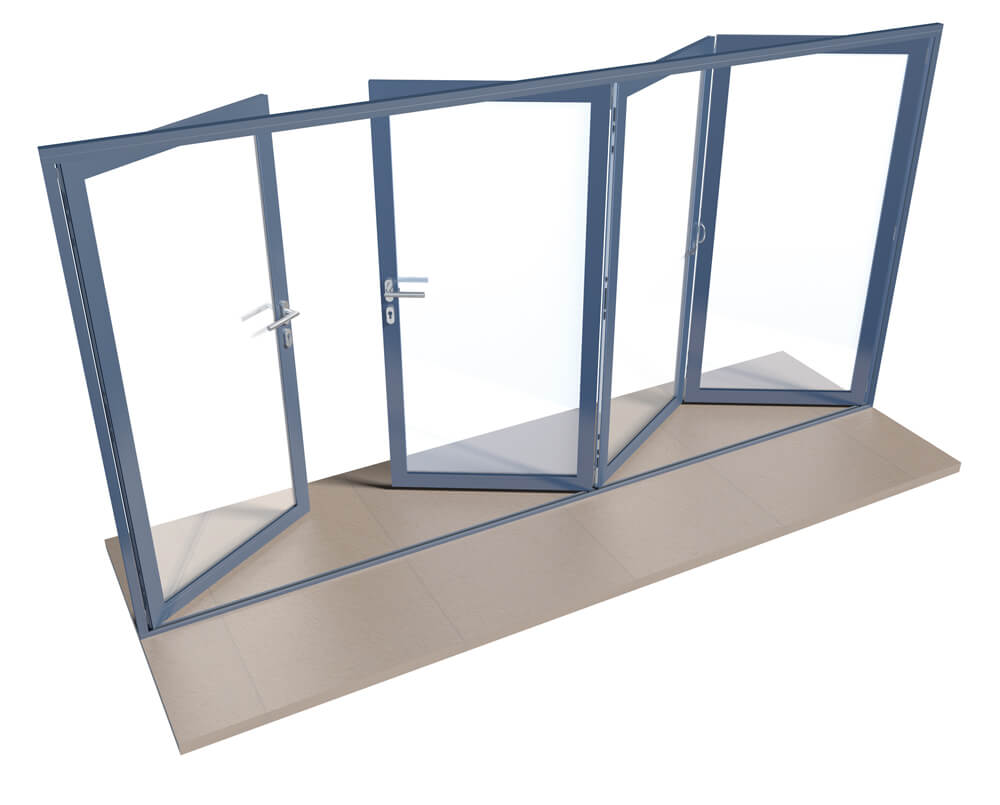 Bi-Fold Frame
Our Bi-Fold frames boast maximum warmth and security and slide effortlessly to the side to make the most of your space. You can even incorporate a discreet passenger door for everyday entry.
Bi-Fold hardware
Our Bi-Fold Door Handles come in a range of colours to suit your home, they're built to last with robust materials and quality finishes.
Bi-Fold Easy Glide System
The sliding operation of a bi-folding door relies on a high-quality stainless-steel track on which quad rollers, which are fitted to the door leafs, glide along in elegant fashion. The same quad rollers are fitted with a small brush on one end to keep the tracks free of dust and dirt.
Bi-Fold Low Threshold
Low level thresholds increase the ease of access for everyone involved. An optional outer and inner ramp can be added on to the threshold to further enhance the accessibility for wheelchair users.
Bi-Fold Doors offer provide optimal security...
The multi-point locking system is integral to the secure nature of a bi-folding door. This advanced lock engages at several points and in several directions into a robust lock keep, which keeps the door sash firmly fixed to the door frame.
Bi-folding doors can be supplied with double or triple glazed units, and the glass panes we use in these units are unbelievably tough and energy efficient. The cylinder locks sit inside the high-security master handles to deter thieves and remove the threat of burglary.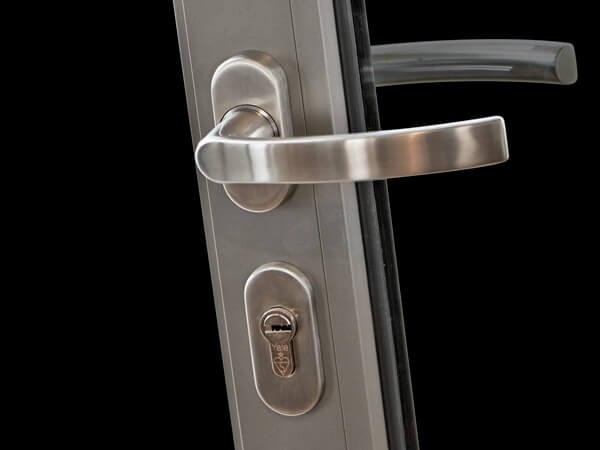 FINISH THE DESIGN IN STYLE
There are countless ways to make our captivating bi-folding doors your own. Once we have your input on your chosen final touches, we can start on the design and manufacturing stage.
Our colour options have won a legion of fans...
If you thought we offer a generous number of configurations for our bi-folding doors, just wait until you see how many coloured finishes there are available. Along with our famous powder-coating finishes, we can also supply you with three sublimated woodgrain finishes in Walnut, Rosewood or Oak. We should also make you aware that you can have a dual-coloured finish if you want different colours on either side of the aluminium framework.
The handles should be considered more than just a minor detail...
Generally, three types of handle are affixed to our bi-folding doors, no matter how they're configured. Pass doors and integrated French doors will require a master handle which will house a cylinder lock, and will be used to engage the multi-point locking system when the bi-fold door is in the closed position.
Each bi-folding section will also entail the use of both a D-handle and an intermediate handle. The latter is used to release the folding panes from the door frame when opening and, of course, re-engage them when closing. A D-handle is used to push or pull the folding panes as appropriate. Within our hardware range we offer both contemporary and traditional master handles which are colour matched by the intermediate and D-handles.
INSPIRED? GET A FREE QUOTE TODAY!
Simply fill in your details for your free, no obligation quotation, and click "Get Quote"