Doors play many important roles, but none bigger than that of your home's security. A strong, well designed door will significantly improve your home's security; giving you important peace-of-mind. Featuring toughened frames and multi-locking systems that provide exceptional security, Portofino UPVC doors also boast incredible energy efficiency and noise reduction. Surpassing the insulation properties of both wood and aluminium, UPVC is non-conductive; meaning your doors will not transfer heat out, and thereby keeping your home warmer for longer for less. Never fading, rotting, or requiring repainting, your new doors will look brand new for many years to come, and require no more maintenance than a quick wipe with a cloth.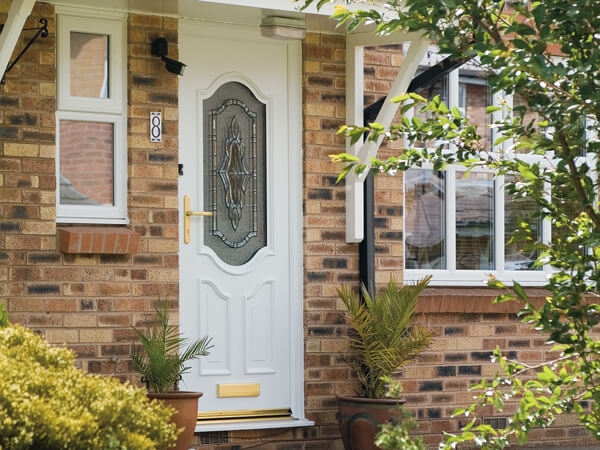 All of our Portofino UPVC doors have fully heat-welded mitred corners and mid rails. The multi-chambered UPVC profile also provides outstanding insulation and an immense standard of heat saving. Optional extras include a restrictor, low threshold for wheelchair access, plus side screens and top lights.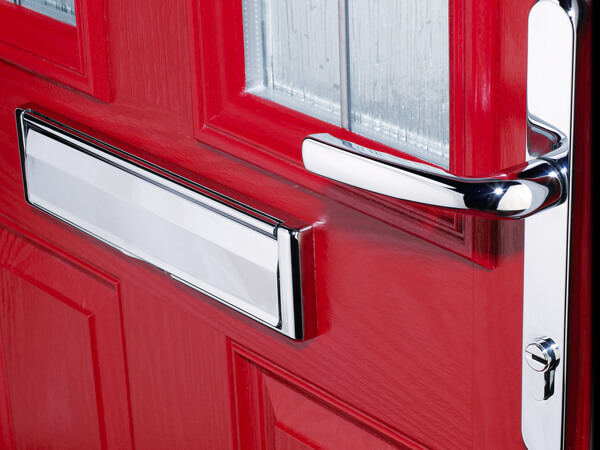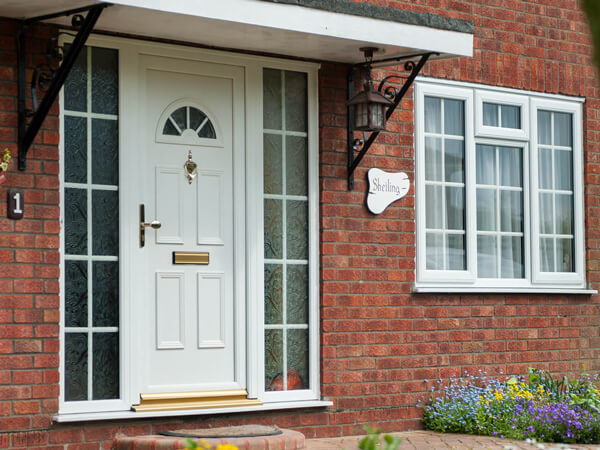 Portofino UPVC Doors
Our Portofino UPVC doors contain all of the very latest safety features. In addition, they also have multiple versatile features, including many practical necessities.
Click on each hotspot for more information on the key features of a Portofino UPVC door.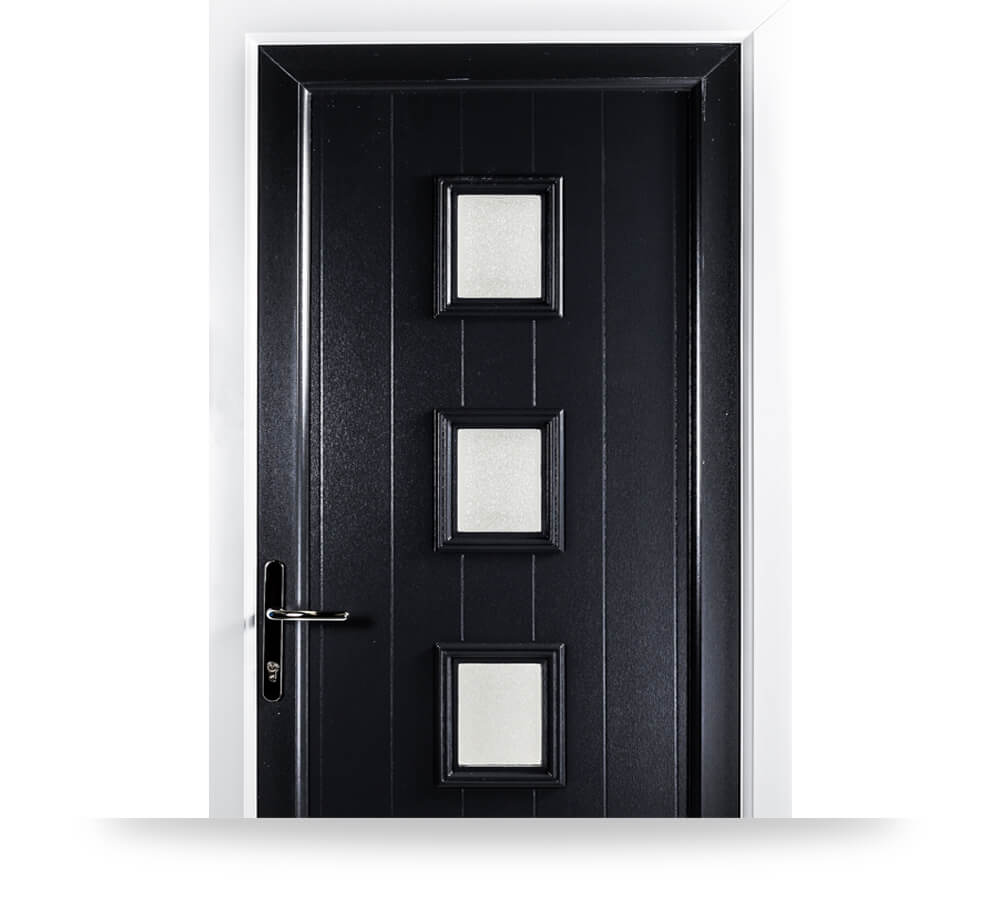 UPVC Panel Glass
Available with a wide range of glazing styles, including obscure and decorative glass.
UPVC Panel Hinges
Anti-crowbar technology that delivers ultimate strength. Horizontal and vertical adjustment that results in 360-degree compression on seals for weather tightness.
UPVC Panel Security
Featuring our robust shootbolt locking system, you can rest assured your UPVC Panel Doors will keep you home and family protected from the threat of break-ins.
UPVC Panel hardware
Our UPVC Panel Doors come with a range of hardware including letterboxes, knockers and handles in a variety of colours to suit your home, they're built to last with robust materials and quality finishes.
Don't forget, when we talk about a new front door, price and value are not the same thing…
Paying out for a new door from Joedan will come with many profitable returns.
Heat loss will be brought to a permanent halt after you have a Portofino UPVC door installed at home. The thermally insulating door frame and energy efficient glass units will see to that. This reduction in heat loss will make a substantial difference to your future energy costs, and the door will also lower your carbon footprint, which can only ever be a good thing for the environment.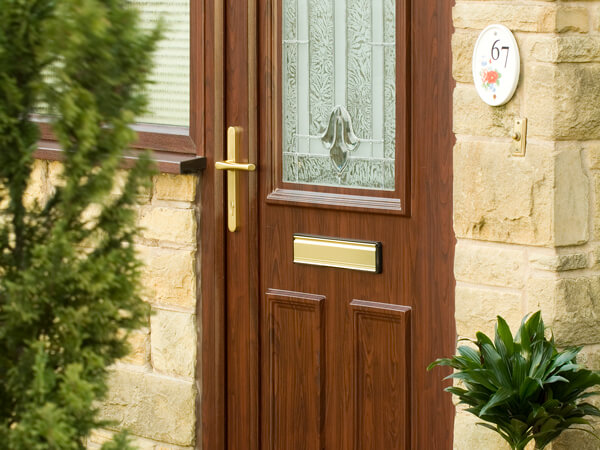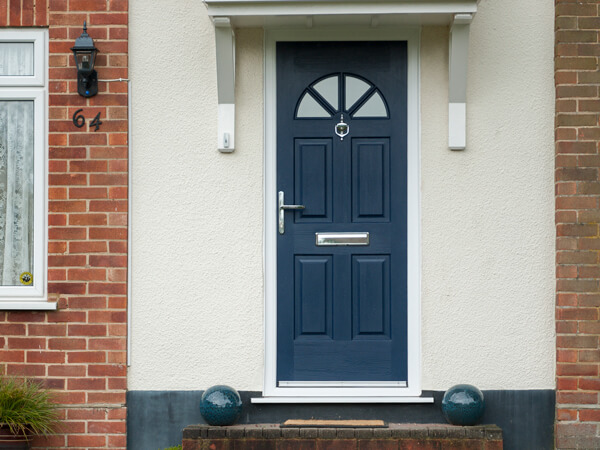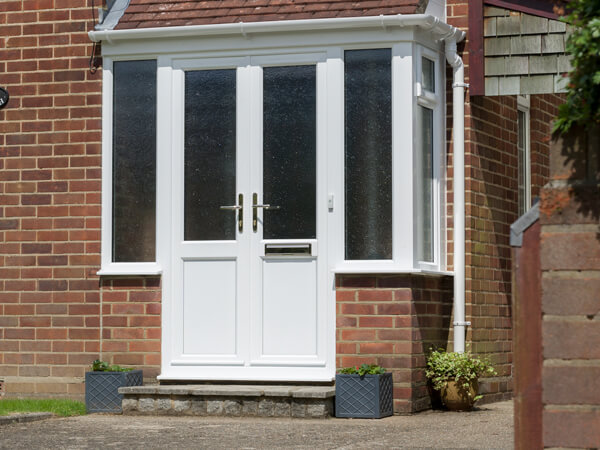 CREATE A STUNNING ENTRANCE
Doors are crucial to make a great first impression of your home. Our range of UPVC doors certainly bring the kerb appeal and each finishing touch is what makes each door unique to your home.
Colours for both sides of the door frame...
Any panelled Portofino UPVC front or back door is available in a huge range of colours including popular favourites like Golden Oak, Rosewood and White, and you can have matching coloured frames come with them. Take away the panelling and opt for a largely glazed door, and you have a far broader choice of colours to choose from. Adding textured or patterned glass to our Portofino UPVC doors, along with a host of hardware, will also enhance their charm and endear them to the watching world.
Quality hardware solutions for your doors
We're dedicated to door design and just as devoted to producing attractive, long-lasting hardware solutions for our delectable Portofino UPVC doors. The standard of craftsmanship that goes into each letterbox, locking system and hinge is exceptionally high. You can buy each category of hardware in different finishes so that your chosen furniture fits in with the overall character of the door. The hardware will also contribute to the resilience of the door.
INSPIRED? GET A FREE QUOTE TODAY!
Simply fill in your details for your free, no obligation quotation, and click "Get Quote"
DISCOVER MORE ABOUT OUR UPVC DOORS
While UPVC doors are a classic choice, if you've never replaced your front door it's natural to have questions. We've answered some of our most commonly asked questions about UPVC doors below to help you decide if these doors are right for you. If you have any other questions don't hesitate to contact our team or visit your nearest design centre.
What are the benefits of choosing a UPVC replacement door?
UPVC doors have a huge audience of admirers and it's no surprise why.
A UPVC door is a sure-fire winner in the replacement door market, offering a chic internal and external appearance that doesn't need the hard graft it takes to keep a traditional timber door in an acceptable condition.
Those who have tested out our Portofino UPVC doors in a Design Centre will tell you how durable they are and it's this durability that puts the mockers on the weather causing any damage to them. The most vicious of storms won't cause the slightest hint of rusting, fading, warping or water damage. Yes, UPVC doors will stand up to just about anything and come out on top every time.
In true Joedan fashion, customers can customise all elements of their UPVC door design to inject it with some individual personality. Browse our eclectic and ample suites of door hardware, glazing and handles for this purpose.
And, of course, there's an extensive range of finishes to choose from too, with a palette consisting of different variations of all the most celebrated colours.
Ditch your mobile device or desktop for an in-person visit to a Design Centre to do more than just visualise our UPVC door products and physically realise just how outstanding they are.
How energy-efficient is a UPVC door?
Conserve energy with our fuel-saving UPVC doors.
Your front door plays so many important roles, not least the job of protecting you and your possessions. The merest suggestion that it isn't secure as it once was or is a cause of perceptible draughts is your trigger to replace it with an energy efficient design.
What an impact it will have on your indoor climate, cutting off the cold and maximising the heat that comes out of your boiler to enormous effect.
Portofino UPVC doors are built using a multi chamber profile and it's this that ensures that barely any units of energy are wasted.
Take the heat off your boiler system and leave it to one of our UPVC doors to keep the family warm and toasty.
Request a free quote for a replacement door if you know that your existing front door's best days are behind it.
How much of an impact does the glass used in a UPVC door have?
The energy efficient glass in a UPVC door is integral to its performance.
Front doors set the tone for homes, with the glass within them having some influence over whether people rate or hate a house.
A single-paned door just isn't sufficient for insulation and will almost certainly be a contributor to any heat loss that occurs at your property. As a standard feature, Joedan's Portofino UPVC doors are double glazed to assure you of warm and energy efficient home surroundings.
There's a raft of glazing options available to add decorative artwork to the door, including stained units, bevelled glass, and etched or sandblasted glass. View them in a Design Centre and begin creating a door to be proud of.
What security features do UPVC doors from Joedan have?
Home security needn't occupy your mind as much after a Joedan UPVC door is in situ.
A happier home life is inevitable when you know that you have a front door protecting you to the hilt. Thieves will use every trick in the book to try and get the better of your door, so it's vital that it is in absolute prime condition and won't buckle under pressure or force.
Our design practices are aimed at guaranteeing door safety for buying customers, with each Joedan door encompassing a robust locking mechanism and anti-crowbar technology to ensure burglars have the hardest possible time attempting to force them open.
And if you need more reason to invest your money in a Portofino UPVC door, how do you like the idea of hardly ever needing to clean the design? We thought that might earn your approval!
Please, inform us if you want to know anything else about these market-leading designs or are raring to get on with creating your own.
What options are available for UPVC doors from Joedan? Can I design my perfect door?
It will be you who's the architect of your new UPVC door design.
Each customer who comes to us for a Portofino UPVC door has a personalised vision of what their dream door would look like, and it seems only right that we allow them to fulfil this fantasy.
Therefore, you have scope to do whatever you want, including the nominating of a colour for the replacement design.
Fifteen finishes sit in the colour palette for our UPVC Portofino doors – everything from white to Chartwell green, olive grey, and steel blue. Several natural woodgrains (Irish Oak, Rosewood and Mahogany) can also be fused into these doors if you're a lover of wood effects and want a UPVC door that you'd swear was manufactured from timber.
Your home entrance's character will be duly bolstered by a new front door, particularly if it manages to flawlessly adhere to the existing style of the house and accompanying elements of it e.g., windows.
Colour is by no means the solitary finishing touch for doors as there's also the hardware to think about. Furnish UPVC Portofino doors with gold, chrome, silver or white handles, door knockers and letter plates.
It's a request for a free quote that will start you on the road to a new door. From there, a design appointment will be set up for us to talk.
What do you need to do to maintain a UPVC door? Do they come with a warranty or guarantee?
Reliable is the word that perfectly sums up a Portofino UPVC door.
In previous eras, just about all front doors were wood built. It cannot be argued against that timber is hugely attractive, but what's not so attractive is the level of upkeep it demands to continue looking smart and performing like you need it to.
UPVC is the polar opposite in lots of respects, such as how it manages to retain its resilience without the same laborious maintenance. A well looked-after UPVC door can endure for at least 35 years and we don't believe any UPVC door is as dependable as our Portofino design.
With that in mind, we're happy to issue you with a 10-year guarantee*, expressing the extent of confidence we have in our UPVC doors. During our time in business, it's become evident that Portofino UPVC doors possess lasting qualities.
*Ask our team to take you through the finer points of the guarantee if there's anything you don't understand or want to know more about.