Bay & Bow windows not only make a strong style statement, but also provide valuable additional living space inside your home. Their design means bay windows are also very good sound dampeners, providing you with exceptional peace and quiet regardless of what is happening outside.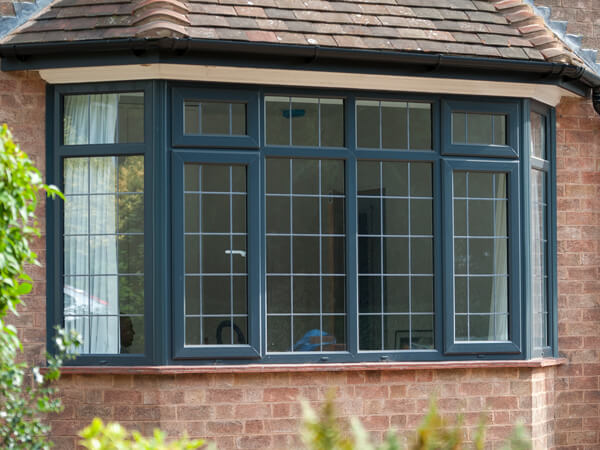 We offer an enormous variety of replacement bay windows. From aluminium and UPVC frames that offer incredible security and will never fade, rot, or warp no matter the weather, to double and triple glazing that will keep your home warm and significantly reduce your energy bills, we will ensure you get the very best windows for your home.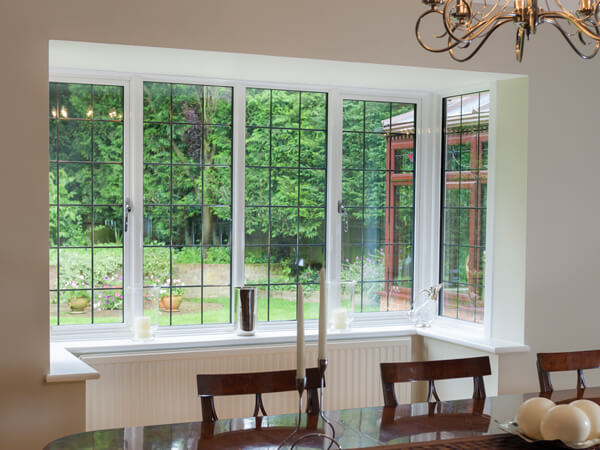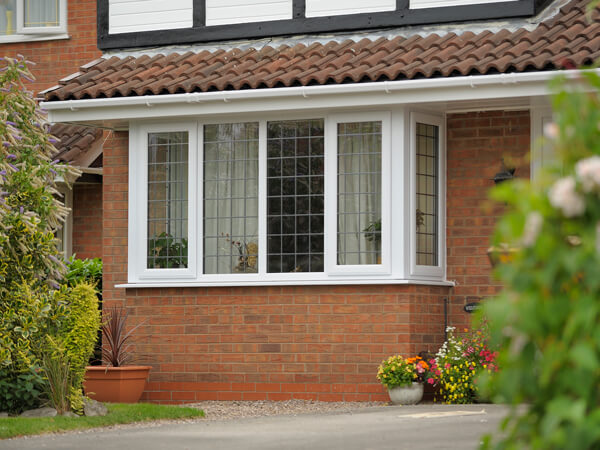 PERSONALISE YOUR WINDOWS
Once you have made a decision on your chosen window style, the fun can really begin. Choose from our wide selection of colours, glazing options and intricate hardware to customise your windows to your complement the look of your home.
An inspiring assortment of colours…
You will be stunned by how astonishingly good our aluminium colours look. A robust powder-coating process is what gives them that all-important durability and richness in texture so that when applied to the frame they truly sparkle. The beauty of RAL aluminium coloured windows is that they can be dual coloured and usually come in a choice of gloss or matt  finish.
Our house colours are featured, however we can offer you over 150+ colours, giving you complete artistic licence to find the right style and colour for you and your home.
An inspiring assortment of colours…
Looking for a standard colour that will remain on-trend always? We will always stock classic white UPVC windows, because they are classic for a reason. However, if you are looking for a colour that is unique and modern, we have a wide collection of colours, such as Chartwell Green, which sits alongside finishes of Irish Oak and Grey perfectly.
Glazing options for all your needs…
If you are looking to increase privacy in your home, our privacy glazing can do just that. This type of glazing is particularly useful in bathrooms. Despite the fact it blocks out the outside world, natural light is still able to pass through the glass successfully.
Meticulously crafted handles...
Whether you are looking for traditional or contemporary handles, we have it all. You'll find that each one of our handles have been intricately crafted by experienced craftspeople.
A locking system has been constructed in each handle so that your windows will stay securely fastened.
INSPIRED? GET A FREE QUOTE TODAY!
Simply fill in your details for your free, no obligation quotation, and click "Get Quote"
LEARN MORE ABOUT OUR BAY & BOW WINDOWS
Bay & bow windows are a great way to add character and style yo a property thanks to their distinctive shapes and features. Find out more about what makes these windows special below or visit your nearest design centre to speak to one of our expert advisors and create your perfect windows.
How do I measure for a bay window? Do I need to bring measurements to my appointment?
It's always useful to receive rough window measurements from a customer but by no means essential.
Ahead of the final fitting of your new bay and now windows, one of Joedan's skilled surveyors will visit your property to accurately measure up. That's not to say though that we wouldn't appreciate some measurements – we definitely would!
Windows need to be measured across the window itself and then done again so that it also includes the window frame. These recorded measurements will reveal the necessary number of panes required for the bay and bow designs.
Photographs of your current windows to accompany the measurements you take of them will also offer great insight to us, as will pictures of the inside and outside of the house in the location where the bay and bow windows will be homed.
What material can I have my replacement window made in?
We specialise in the crafting of UPVC and Aluminium bay and bow windows.
You know your home and own mind better than we ever could, so we're extremely comfortable with the idea of allowing you to get bay and bow windows just as you've pictured them. Choose from one of two window materials – Portofino UPVC and Lusso aluminium.
UPVC is the traditionalist's choice and long been admired by householders in Southampton, Newport, Cirencester and beyond for its resilience and adaptability. It's easily customisable if you want to coordinate your bay and bow windows with any current doors.
The contemporary-minded find aluminium an alluring material, identifiable for being ultra-slim and offering generous sightlines. Aluminium window colour options are close to limitless, so any window design goals are attainable.
One material doesn't prevail over the other as they each cater to present-day security expectations, endure for a sustained period, and need very basic maintenance. A Joedan advisor will fill you in on the other benefits you will be buying into when you invest in our bay and bow windows.
How long does it take to install bay windows?
A thorough explanation of the installation process will be given so that you know what to expect.
It wouldn't be fair on you for us to 'guesstimate' the length of time it will take to fit new bay and bow windows at your home without knowing how complex the project will be, what window sizes are needed, and whether any supplementary construction work is required. In our experience, most installations take around 1-3 days to complete, but it can differ from job to job.
No installation begins before a survey has taken place to ensure a seamless installation. This survey may bring attention to any complications that need to be factored in. Let us assure you that everything will be meticulously organised beyond just the installation as we want you to receive the best in customer care from beginning to end.
Contact your Project Manager at any time to check up on the progress of your installation and receive answers to your questions – they will treat you like part of the Joedan family.
Do you offer a guarantee with bay windows?
Along with the best in bay windows, you get a 10-year guarantee.
An investment into replacement windows costs a significant sum, so it's understandable that you want that investment protected for the long-term. We acknowledge this with the issuing of a 10-year guarantee at the conclusion of their installation.
You only need to run your hands over our windows and view them right close-up to see the depth of craftsmanship employed into their design. In the unlikely event of you experiencing any problems with the windows, our aftercare service is there to resolve them and return the windows back to their rightful state. The finer details of our 10-year guarantee can always be explained to you by any team member at Joedan.
Do I need planning permission for bay windows?
Joedan will quickly uncover if planning permission is required.
Contact will be made with your local planning authority early on in our discussions so that both of us are clear on whether a planning application needs submitting to proceed with the fitting of bay and bow windows.
In the majority of cases, bay and bow window installations come under Permitted Development Rights, basically meaning that you can commence without planning permission, but it's always best to clarify things first with the relevant planning committee as regulations vary between areas.
Rules are strictest in conservation areas to prevent the addition of replacement windows that spoil the aesthetic of homes with an architectural and historic interest. A breach of any rules can have serious consequences.
Industry outsiders often don't have any understanding of building regulations, but we do and will safely navigate you through the red tape so that your new bay and bow windows abide by the rules and don't upset the planners.